THE COMPANY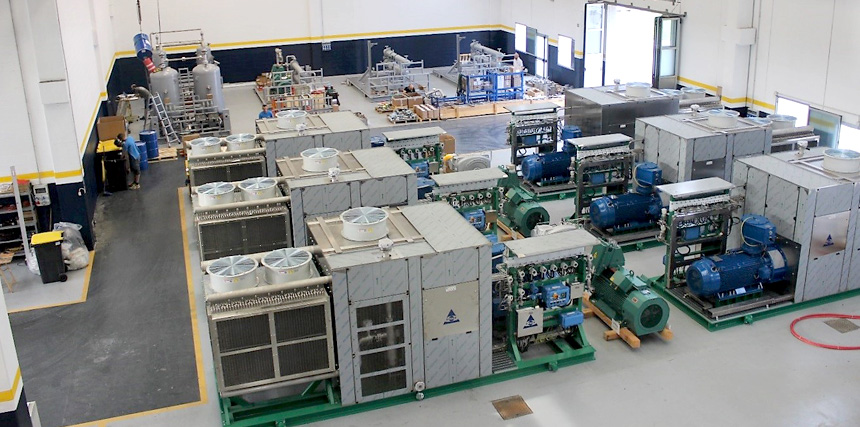 BLUTEK is an independent ISO certified Company specialized in the design and production of engineered turnkey skids for service air, instrument air and nitrogen generation, both offshore and onshore.

BLUTEK creates and assembles tailor-made skid units for adverse environments such as offshore, explosion-proof and desert areas. These include instrument air, black start and plant air compressors.

Based on the client's specifications, skids include:
Screw compressors (lubricated or oil-free, water or air-cooled, and fixed or variable speed, with electric LV-MV motor or diesel engine)
Dryers: adsorption, heatless / heated, heat of compression (HOC), membrane and refrigerated
Membrane / pressure swing adsorption (PSA) nitrogen generators
Air receivers
Specialised lifting frames
BLUTEK solutions may comply with any local and international Standards such as API 619, ISO 10440.1 and ISO 10440.2, ATEX, API R14, EN 60034, ASME VIII DIV. 1 and U STAMP, PED.
Based in Italy, BLUTEK has a worldwide network of local offices, agents, distributors and service centers, which support customers from the design to after-sales phases of the project.
BLUTEK is proud to offer to any customer the most proper solution, designing and producing also the critical components when not available in the market. This makes BLUTEK independent and different from all the simple package assemblers.
BLUTEK has obtained important qualifications and supplied innovative solutions to Oil&Gas and marine industries worldwide. Because of its recognized experience and knowledge, many EPC's involve Blutek during the feed stage for defining the requirements of new plants.
BLUTEK is an ISO9001:2008 certified Company with the highest commitments in terms of Safety and preservation of Environment.